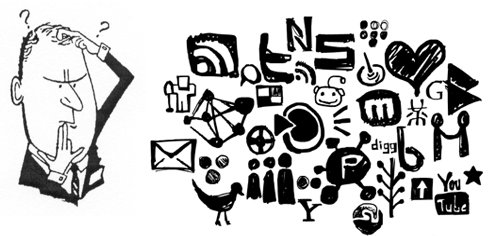 'Get on Twitter' is not a social media strategy, declares Brand Channel (pdf), and I agree wholeheartedly.
"... you probably have some people from within or outside consultants saying, 'We need social media!' or 'We need to be on Twitter!' or 'We need to be on Facebook!' or several other methods. But they aren't explaining why you need to be on those things. Why, because everyone else is doing it? That's kind of a lousy strategy. And what will you do once you are on some of these sites? Just talk about yourself? That's not a particularly good way to establish a relationship."
How do you plan on connecting with your audience? Better yet, why should your audience connect with your brand? Do you get 'Interactivity'?
Your strategy should be specific to your brand and to your audience. One-to-many and one-to-one. Once you've customized your plan, only then you should use Twitter and Facebook to establish your relationship. Then get ready for the interaction. Just as important, if not more, what happens next should have already been prepared, not reacted to. Obviously, there will be instances where the plan is tweaked, but social media is not a learn-as-you-go process. At least not anymore!
You should concentrate on developing your business, marketing your product, handling the aftermarket. But when it comes to social media and interactivity, you should bring in the professionals who do just that for a living. However, insist on seeing their road map! Test how ready they are for what happens next! And make sure they provide you with a measurable ROI so you can gauge how successful the 'real' strategy is!
Don't let your social media strategy become a social media tragedy!